Triathlon Psychology Coaching
Continued professional development (CPD) diploma for coaches
Our Triathlon Psychology Coaching Programme is designed for existing coaches who want to learn sport psychology and how to apply it to their athletes.
It starts with our 12-week Triathlon Psychology Diploma to give you a comprehensive grounding in psychology, before progressing onto additional coaching modules. Existing graduates can jump straight to the coaching modules.
Nurturing your athletes. Using psychology to better understand and support your athletes to build trust, understanding and a stronger relationship.
Head-first coaching. Incorporating psychology into designing and delivering training plans.
The psychological toolbox. Bringing in tools like self-talk, mindfulness, pressure acclimatisation and nearly a dozen more. Understand when and why to bring them in and how they work.
Completion of the course is assessed by submitting coursework that will be marked by your instructors. You will receive feedback on your progress as you proceed through the modules.
Qualification
On completing the course, you will be awarded an accredited Diploma in Triathlon Psychology Coaching.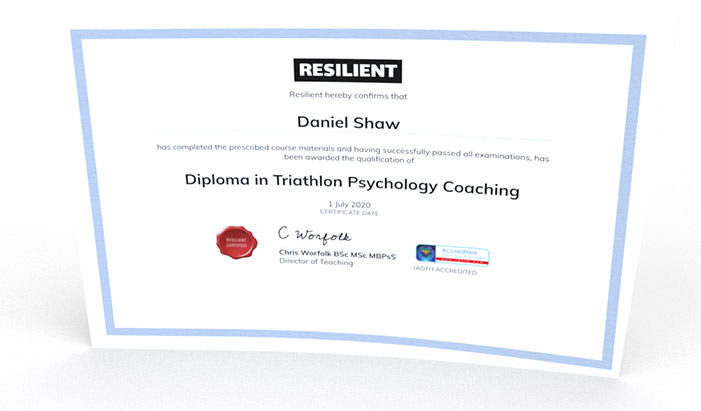 Dates & fees
We run the course once per year with registration opening in April. Registration is available exclusively to those on our waiting list, which you can join using the form below. The current fee is £299 which includes both parts of the course.
Your instructor
Taught by Chris Worfolk, qualified psychologist, British Triathlon and IRONMAN Certified Coach. Over 60,000 students have joined and loved Chris's online courses, and we would love for you to be the next one.