Sport Psychology for Triathletes
A comprehensive evidence-based course on improving your mental game
Do you want to stand on the start line feeling like an elite triathlete? Control those pre-race nerves? Find the resilience to keep going when you are at your lowest? In short, be a stronger, more confident, happer triathlete?
It is often said that the mental side is just as important as the physical side. Yet so few triathletes put a proper training programme in place for their mental game. Until now. Our premier course provides a comprehensive scientifically-based education on every area of sport psychology that triathletes and would-be triathletes need to master.
Understand how your mind works and how to keep it healthy
Find more motivation to train through the winter months
Calm those pre-race nerves and butterflies in the stomach
Approach every start line knowing you can handle whatever the race throws at you
Conquer your weaknesses: no more "I'm not a swimmer!"
Get faster sitting at your computer
Syllabus
The course duration is 12 weeks, with each module taking 2-3 hours of study to complete. Each module is assessed by a multiple-choice test. The core modules are:
Module 1
Foundations
The basics of sport psychology to set you up for the rest of the course.
Module 2
Motivation
Enjoy your training, get the sessions done and stay on track.
Module 3
Goal-setting
Set goals scientifically to achieve better results.
Module 4
Focus
Gain control of your attention so you can execute to perfection and shut out the pain.
Module 5
Mental imagery
Use visualisation to learn skills, improve performance and gain confidence.
Module 6
Confidence
Build confidence to perform at your best and calm those race-day nerves.
Module 7
Self-talk
Rewrite the voice inside your head to make it less negative and more helpful.
Module 8
Stress and anxiety
Calm your pre-race anxiety and get yourself into the optimum zone of functioning.
Module 9
Mindfulness
Use the science of mindfulness to control your attention and reduce anxiety.
Module 10
Expertise
Understand how humans learn and how you can apply this to improving your technique.
Module 11
Routines and mental preparation
Use routines to nail execution and get it correct every time.
Module 12
Injury and recovery
Protect yourself from injury and recover faster when the worst does occur.
Qualification
On completing the course, you will be awarded an accredited Diploma in Triathlon Psychology Coaching.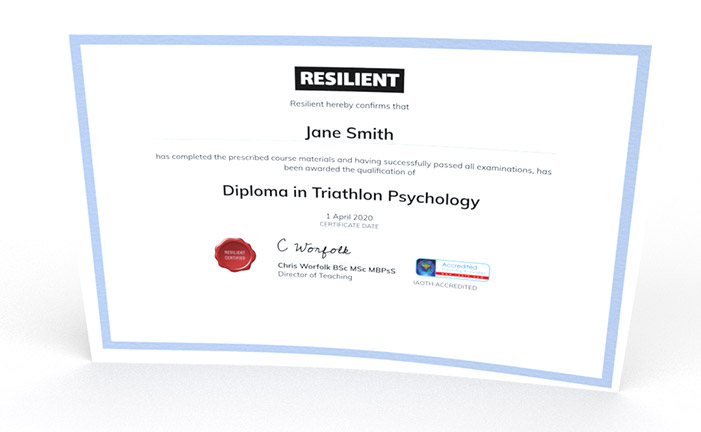 Join the course
We run the course once per year with registration opening in April. Registration is available exclusively to those on our waiting list, which you can join using the form below. The current fee is £199.
Your instructor
Taught by Chris Worfolk, qualified psychologist, British Triathlon and IRONMAN Certified Coach. Over 60,000 students have joined and loved Chris's online courses, and we would love for you to be the next one.