Coaching
Do you want to feel fully supported in your triathlon journey? If so, our one-to-one coaching with Chris could be the best option for you.
With one-to-one, uou will receive the individual support and attention you need to reach your goals. You will have regular meetings and a training plan designed by Chris, psychologist and certified coach (British Triathlon, IRONMAN).
What's included?
Personalised training plan

A training plan designed just for you. Delivered via TrainingPeaks (premium account included), FinalSurge, or any other platform as agreed. Includes an annual overview and 4-week blocks of specific workouts.

Fortnightly meeting

Face-to-face meeting (via Zoom, Skype) with Chris to discuss any aspect of training, racing and wellbeing. Meetings can be up to 60 minutes.

Monitoring and email access

Don't feel like you have to bottle everything up for the fortnightly meeting: you can email Chris at any point and we will be reviewing your training log regularly.

Psychology & wellbeing

Chris is a psychologist and counsellor, as well as a triathlon coach, so if you are struggling with any aspects of your mental health, this can be factored in and discussed during meetings.

Expert advice

Need advice on nutrition, strength & conditioning, race preparation and equipment? It's all covered.

Team Resilient included

All of the benefits of being a Team Resilient member including live class invitations, workout library and educational courses are included.
Fees
£200 per month. Cancel anytime.
We will start with an assessment meeting to see if we are a good fit for each other before proceeding.
About Chris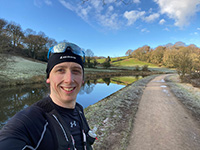 Chris is a certified coach with both British Triathlon and IRONMAN. In addition, he is a psychologist and member of the British Psychological Society, as well as a Yoga Alliance certified RYT-200 registered yoga teacher.
Chris works with a range of athletes, but specialises in psychology (including mental health), middle and back-of-the-pack athletes, and those looking to step up to new distances. He races all distances in triathlon has completed multiple ultras.
Get started
If you would like to book one-to-one coaching, please email us with some basic details about what your goals are and what you are looking for and Chris will be in touch.