Blog »
15 UK-based full distance triathlons in 2022
Published 25 August 2021. Written by Chris Worfolk.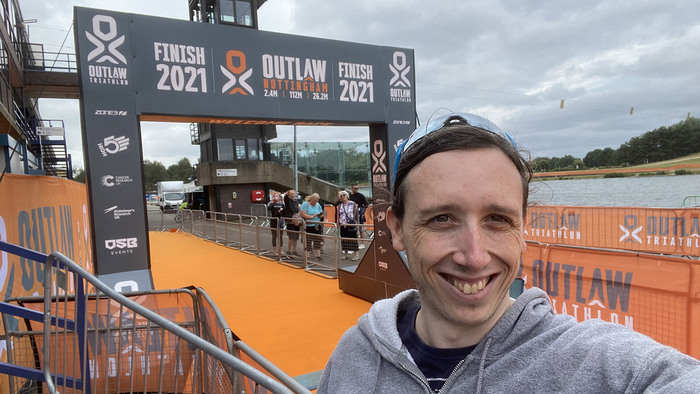 Looking to do a full distance (iron distance) triathlon in 2022? Here is what I hope is a complete list of the full distance races taking place in the UK next year.
It is worth noting that I am writing this in August and between it only being the summer of 2021 and the COVID situation, many event organisers have yet to announce their 2022 events. Therefore, this is more a list of races I expect to take place.
Evolve Trio
Time of year: May
Location: Yorkshire
Evolve Endurance Events were one of the few event organisers that were able to stage a series of events in 2020 and introduced their first full in 2021. With a twist: the event is split over the bank holiday weekend with swim, bike and run on consecutive days.
Full X
Time of year: June
Location: Lake District
Starting at 4:30 in the morning with a swim around Windermere, the Full X then moves onto the Fred Whitton sportive course with 3,700 metres of climbing and a marathon that goes up Scarfell Pike. 2022 is the last time they will be running the event.
Ultimate
Time of year: June
Location: Shropshire
UK Triathlon has a good reputation for races and Ultimate sells itself as a beginner-friendly full distance race.
Celtman
Time of year: June
Location: Wester Ross
An X-Tri World Tour race, it features a 3.4 km swim, 202 km bike and 42 km run across the mountains. You will need to bring your own support crew, including a support runner for the marathon.
Yorkshireman
Time of year: June
Location: Ripon
Run for the first time in 2019, after two years of Freebird Events cancelling all of their races due to COVID, I hope this race will make a return. The organisation is first-class and equal in every way to the bigger races.
Lakesman
Time of year: June
Location: Lake District
A race with a great reputation. The bike course is not too hilly despite being in the Lake District.
The Bastion
Time of year: July
Location: Kent
Part of the Castle Triathlon Series, Hever Castle is the only one of the series to offer a full-distance race. As with others in the series, there are lots of different races on if friends and family want to do an easier race.
IronBourne
Time of year: July
Location: Sussex
Run for the first time in 2021 and from the organisers of Eastbourne Triathlon comes this full distance race. It starts with a sea swim jumping off the end of Eastbourne's historic pier.
Outlaw
Time of year: July
Location: Nottingham
OBS Events are known for high-quality beginner-friendly races where you will be well looked after. Plus the race is so flat. They have one hill and if you are from Yorkshire, you probably would not even call it that. Not recommended for European athletes as OBS only publish their race information in imperial (miles).
IRONMAN UK
Time of year: July
Location: Bolton
The first of two IRONMAN-branded events, IRONMAN UK offers a lake swim, a bike course with several significant climbs on closed roads and a town-centre finish.
Jurassicman
Time of year: August
Location: Devon
Starting in Devon but finishing in Dorset, Jurassicman Extreme Triathlon is a point-to-point race with a tonne of climbing on both the bike and the coastal-path marathon.
Midnight Man
Time of year: August
Location: London
Starting at 6 pm, Midnight Man races through the night on a lapped course. Personally, I like the idea of avoiding a really hot and sunny August day. Plus it is on closed roads!
Dalesman
Time of year: August
Location: Ripon
TriHard is known for several popular races including Helvellyn and Redcar. Dalesman is their first foray into full distance racing.
The Brutal
Time of year: September
Location: Snowdonia
As if a regular full distance race is not hard enough, you can do gone that goes up Snowdon. The Brutal and the Full X are regularly competing for the title of "toughest triathlon in the world". And if that is not hard enough, why not move up to the Double, Triple or Quin Brutal?
IRONMAN Wales
Time of year: September
Location: Tenby
The second IRONMAN-branded event of the year starts with a sea swim and then moves onto a hilly bike and run course. The support in Tenby is legendary, mostly because there is nothing else to do in Tenby. As it is IRONMAN, it is closed roads for the bike.
Bonus: Goodwood 225
Time of year: August
Location: Sussex
The 225 is not a full-distance race; it is slightly longer. However, it is not that much longer so may be of interest to people looking to step up the challenge a little.
Claiming to be the world's longest single-day triathlon, it slightly extends the distance to 5 km of swimming, 200 km of cycling and 50 km of running. It all takes place on the beautiful surface of the race circuit with 52 laps for the bike and 10 laps for the run. Cut off time is 18 hours.