Blog »
How clubs are adapting to social distancing
Published 25 November 2020. Written by Chris Worfolk.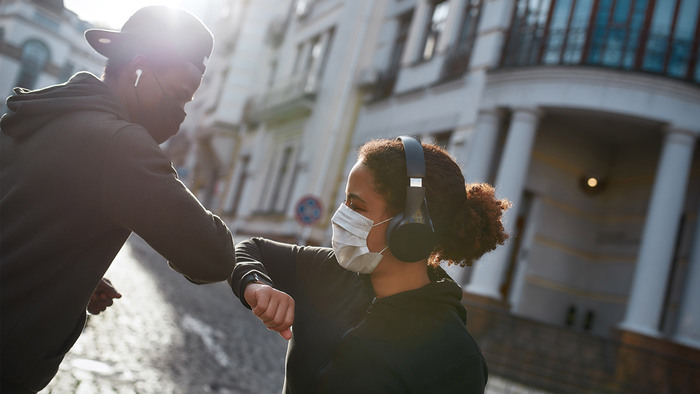 COVID and lockdown have forced many athletes to find new ways to connect. While half the world now appears to be on the way out of the pandemic (less so for those of us in Europe) I thought it worth documenting what we are doing at my local club.
I use the word "we" pretty liberally throughout this article but I certainly do not want to take credit for all the hard work the committee members do while I just turn up and coach sessions!
Bike races on Zwift
Since spring we have been running group training sessions on Zwift twice per week. We typically find one of the existing events and all join that while chatting over audio using the Discord app.
That has done well, but what has really taken off is our club bike races. These happen once per week in a time trial format so that anyone who misses it can do a catch-up ride later on in the week.
Recently, we have also trialled road races with a mass start. These races bring drafting and tactics into play and have so far been popular, although work best when you don't have too many hills at the start or it just turns back into a time trial.
Run challenges
There have been a variety of fun challenges to take part in at our run club. These include a virtual relay where everyone runs for a set amount of time, a postbox search game and the Ross Barkley 5km challenge.
If you haven't heard of the Ross Barkley, it is a run where only moving time counts and you can take as many breaks as you wish. It's a game of patience: one of our members brought their 5km time from 20 minutes down to 14 minutes by spending 3 hours running a bit, recovering and going again.
Small groups
When group exercising has been allowed we have made several modifications to allow us to keep going. We are limiting groups to six runners and so have been recruiting run leaders like mad to try and offer a wide variety of sessions.
We have also developed new sessions that allow for better social distancing such as heading to a park and setting up circuit training with people moving around a set of hill repeats, long loops and recovery sections.
We are currently limited to only two people in a group here in the UK, so we are running a buddy system where we don't organise formal events but help you find someone else to work out with.
Zoom classes
I am currently teaching a weekly yoga class via Zoom and during spring we ran a weekly strength and conditioning class.
Non-training
In addition to all of the training activities we have been doing, we have also been running several other activities including quizzes and Zoom-based social gatherings.
Summary
There are plenty of ways a club can adapt to difficult times. If you are involved as a coach or organiser at your local club, taking a leadership role in tough times can be a great way to force your mind to stay positive and productive: something that is good for us and good for the people around us, too.